CEPAI manufactures complete Wellhead and Christmas Tree systems from casing head to adjustable or positive choke, assembled and tested to customer requirements. Fully clad metal-to-metal sealing Wellheads and Christmas Trees for critical service and other special customer requirements are also available.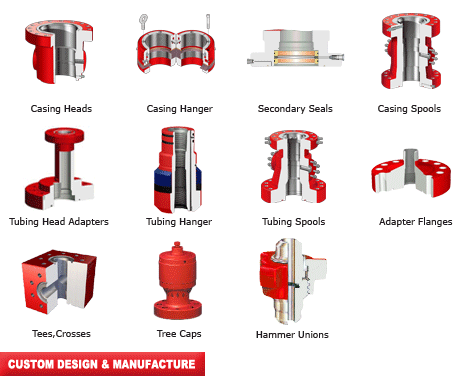 When you have a critical flow application or special requirement but no existing product or system to offer complete custom design and engineering services. With professional manufacturing capabilities, from the initial forging to product fininshing, CEPAI can produce any part from start to finish. CEPAI engineering's expertise and intimate knowledge of field operations, have achieved a remarkable record of developing...
Read more
CEPAI OE can manufacture a choke and kill manifold to meet your specific requirements, from simple low pressure to extreme sour gas service. The manifold can be designed with any number of fixed chokes, manually adjustable chokes and automatic chokes with a working pressure of 3,000, 5,000, 10,000 and 15,000 psi. All flow fittings are suitable to H2S service as defined by NACE MR0175, even if not specifically requested. Fittings include buffer chambers, spools, crosses and tees. In addition, all components are manufactured in accordance with API spec 6A and the choke manifold assembly is manufactured inaccordance with API spec16C...
Read more