Catalog
API 6A Products
API 16C Products
API 6D Products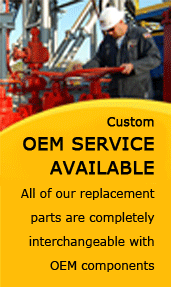 A dependable design for rigorous heavy duty service in abrasive conditions and specifically engineered for the tough requirements of oilfield service.
• High pressure mixing lines
• High pressure drilling system block valves
• Production manifolds • Standpipe manifolds
• Wellheads
• Production gathering systems • Pump Manifold block valves
• Well treating and frac service
• Production flow lines
The Model 600 API Series valve conforms to the standard flange and pressure requirements for API class 7000. It is offered with threaded, weld and flanged end connections. End connections vary by size and pressure depending on customer requirements. The Model 600 Mud Valve is designed especially for the demanding requirements of corrosive CO2 injection and waterflood applications in the enhanced oil recovery market. The Model 600 is available from 1-13/16" to 5-1/8" applications.
Floating slab gat e design
A slab gate with "T" slot stem connection allows the gate to float to the seat providing a tighter pressure responsive seal.

In-line field repai rability
The bonnet is easily removed for internal parts inspection and/or replacement without removing the valve from the line. This design implicity permits fast and easy service without the need for special tools.

Heavy duty roller bearings
Large, heavy duty stem roller bearings reduces torque.Unique, abrasion-resistant, one piece seat design.

The seat assembly consists of two stainless steel insert/support rings to which a resilient elastomer is permanently bonded.

The elastomer provides tight shut off after long use in abrasive service. The stainless steel rings are corrosion and erosion resistant. The rings are specially designed to ensure maximum bonding strength for the elastomer. The one piece design makes field replacement easier.

Locking seat alignment
The seat assembly is engineered with a metal "lock shell" that anchors the seat in the bottom of the valve. This design ensures accurate seat alignment with minimum resistance to flow.

Body wear rings
Surface hardened alloy body wear rings back up both sides of the seat. These rings extend the service life of the valve by absorbing erosive wear that can damage the body around the seat bore area.

Rising stem design
The DM 7500 uses a rising stem design which isolates and protects the threads from the line medium.The rising stem also indicates gate position.

Visual position indicator lens
A clear position indicator lens allows the operator to easily determine whether the valve is open or closed. The indicator lens also helps to protect the stem threads from the weather.

Replaceable stem packing
The stem packing can be replaced without removing the bonnet from the valve (3" - 6") saving time when this maintenance may be required (note: line and valve pressure must be relieved before performing this maintenance).

Flow-cleansed design
The body cavity area is designed to allow continuous "flushing" by the fluid flow. This action prevents the valve from "sanding up", even in standpipe installations.